"A home without a dog? How does that work?"
Bevill Dog Rescue's (BDR) mission is to educate humans on dog behavior while responsibly placing well-behaved dogs into qualified homes. We only place dogs that can be great family pets and we educate our adopters, fosters, employees, and volunteers on how to properly build a relationship with a dog through species specific fulfillment and calm, confident human leadership.
We also pledge to be brutally honest and totally transparent in our dog's descriptions. You will not find us using terms like "cuddle monster", "fur baby", or "lap dog". Obviously there is nothing inherently wrong with any of those terms, but we do not want to humanize the dogs and play on a potential adopter's emotions. We will give you a true understanding of the dog from a behavioral perspective so we can find the perfect home for our dogs and the perfect dog for your family.
While most rescue organizations tout their number of "saved" dogs, we will tout the number of dogs returned to us for behavioral reasons. We want to flip the rescue model and show how it can be done in a more responsible and impactful way. We don't believe that keeping a dog alive and moving them from foster to foster to boarding to adopter and back to boarding…is "saving" a dog. We believe that keeping them alive and in a stable, fulfilling environment is truly saving a dog.

We will never ask our fosters to care for a dog that needs rehabilitation. It is unfair to fosters to place a dog with them that is behaviorally beyond their capabilities. However, all humans involved with Bevill Dog Rescue will be trained in dog behavior and will be expected to properly lead and fulfill any dog in their care. That includes our employees, fosters, volunteers, and adopters.
All dogs that are up for adoption have been through behavioral training, are spayed/neutered, and are fully vaccinated. All adoptions include a mandatory, free consultation to educate the owners on dog behavior and what their new dog needs in order to be fulfilled. Each dog also has a lifetime commitment from Bevill Dog Rescue. We will continue working with the dog and the owner for the lifetime of the dog to ensure a happy ending for both the dog and the humans.
ADOPTERS MUST:
be at least 23 years old
apply and be approved as a BDR adopter
go through an evaluation with the BDR dog
go through a home visit where the BDR dog meets any existing household dogs
supply proof that all humans in the home are onboard with the adoption
supply proof of landlord approval or homeownership if adopting a dog that has
any traits of a "pit bull terrier" – even if they are subtle
commit to attending and completing Dog Behavior 101 class at Bevill Dog Behavior before any dog can be adopted
Application fee is $100. Adoption fee is $495.
If we don't have a dog that is a good match for you, we can always help you choose a dog from a shelter or different rescue group that is right for you and your family (hourly rate applies).

NO AVAILABLE DOGS AT THIS TIME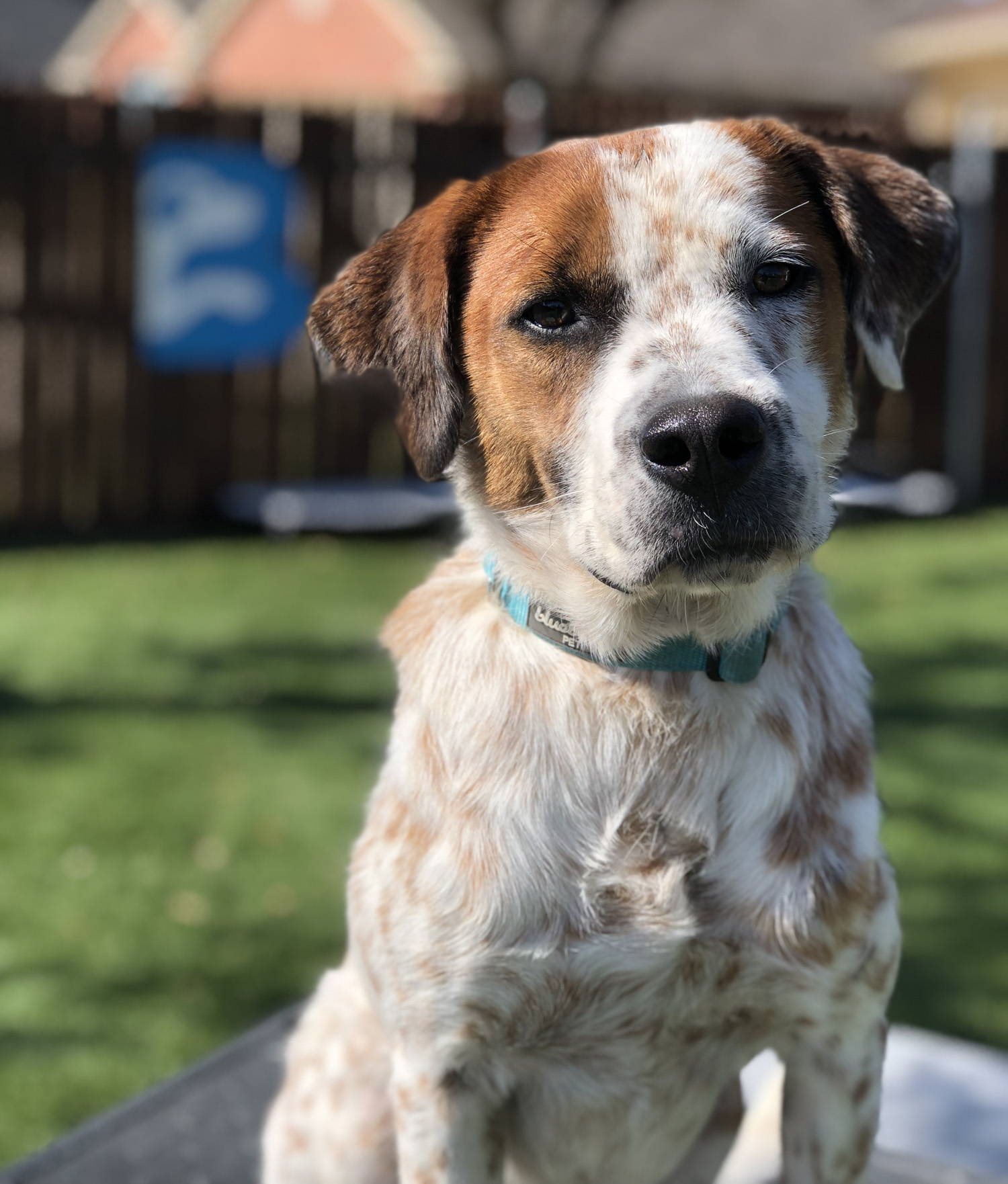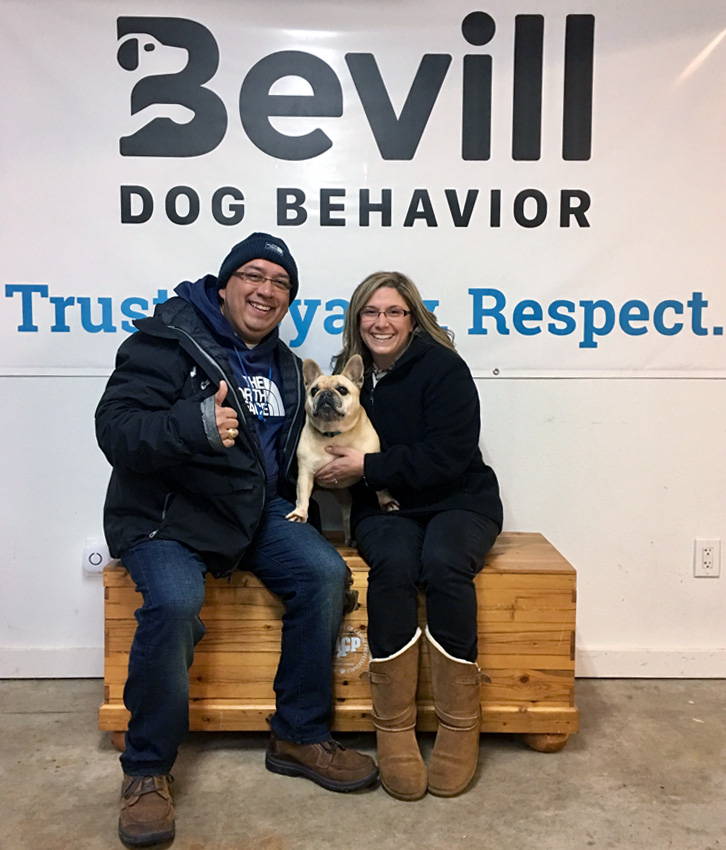 Congrats to Emily and her new family! We're so happy to see this sweet girl go to an amazing family where she can thrive (and get a little spoiled too).
Emily is a senior, sweetheart and an incredibly easy dog from a fulfillment perspective. However, she came to us because she had a habit of attacking any sudden movements/noises that she wasn't used to. Things like: trash bags or sacks when shaking open, brooms, vacuum cleaners, loud/sudden movements from children, etc. Since going through our behavioral training, she has shown no signs of moving forward when presented with all of those situations. However, we would not place her in a home with a young child and we fully expected her new home to be properly prepared to lead her in a very strong and consistent fashion. She is a very sweet, calm, and easy dog, but her new home had to be prepared to continue to guide her decision making during those inopportune times. We're happy we found that exact home for her!

We look forward to seeing the joy that Emily brings her new family!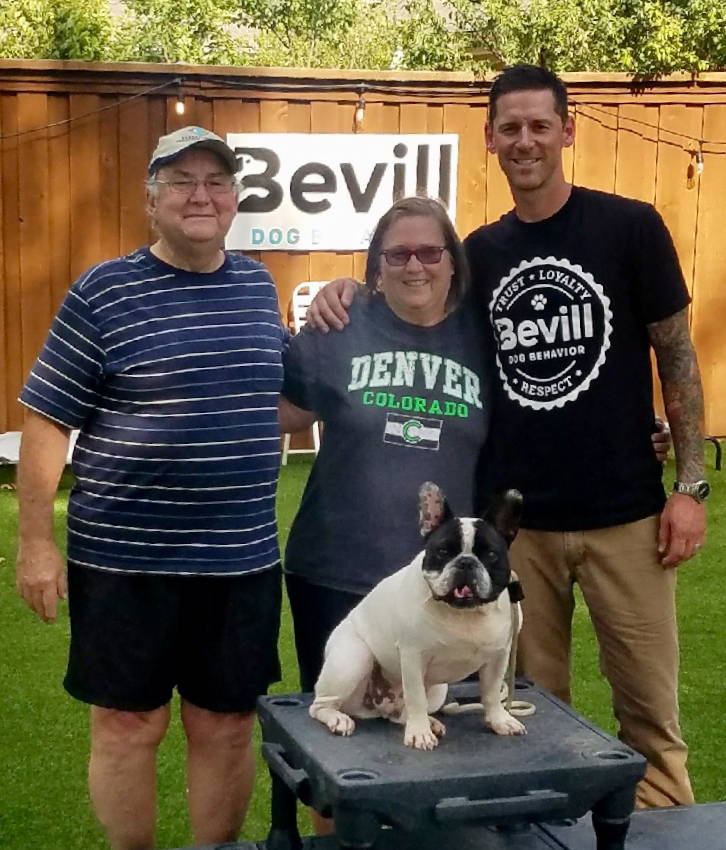 Congrats to Remi and his new family! We're super excited to see this guy go to his new home. He's an amazing dog that will always be part of the BDB family!
Remi is a big, beautiful, 45 lbs frenchie! He is hard-headed, hilarious, sweet, and fun! Remi has no major behavioral issues (aggression, anxiety, fear, destructive behaviors, etc) other than – he is very stubborn and can be overly-excited. Remi requires a very strong, consistent leader and a very calm home. Before coming to us he was known to jump on children, take things out of people's hands, not sit still, scout for food, and needed constant attention. We have worked hard to teach him manners and how to do nothing but chill when asked.

We look forward to seeing the joy Remi brings to his new family's life!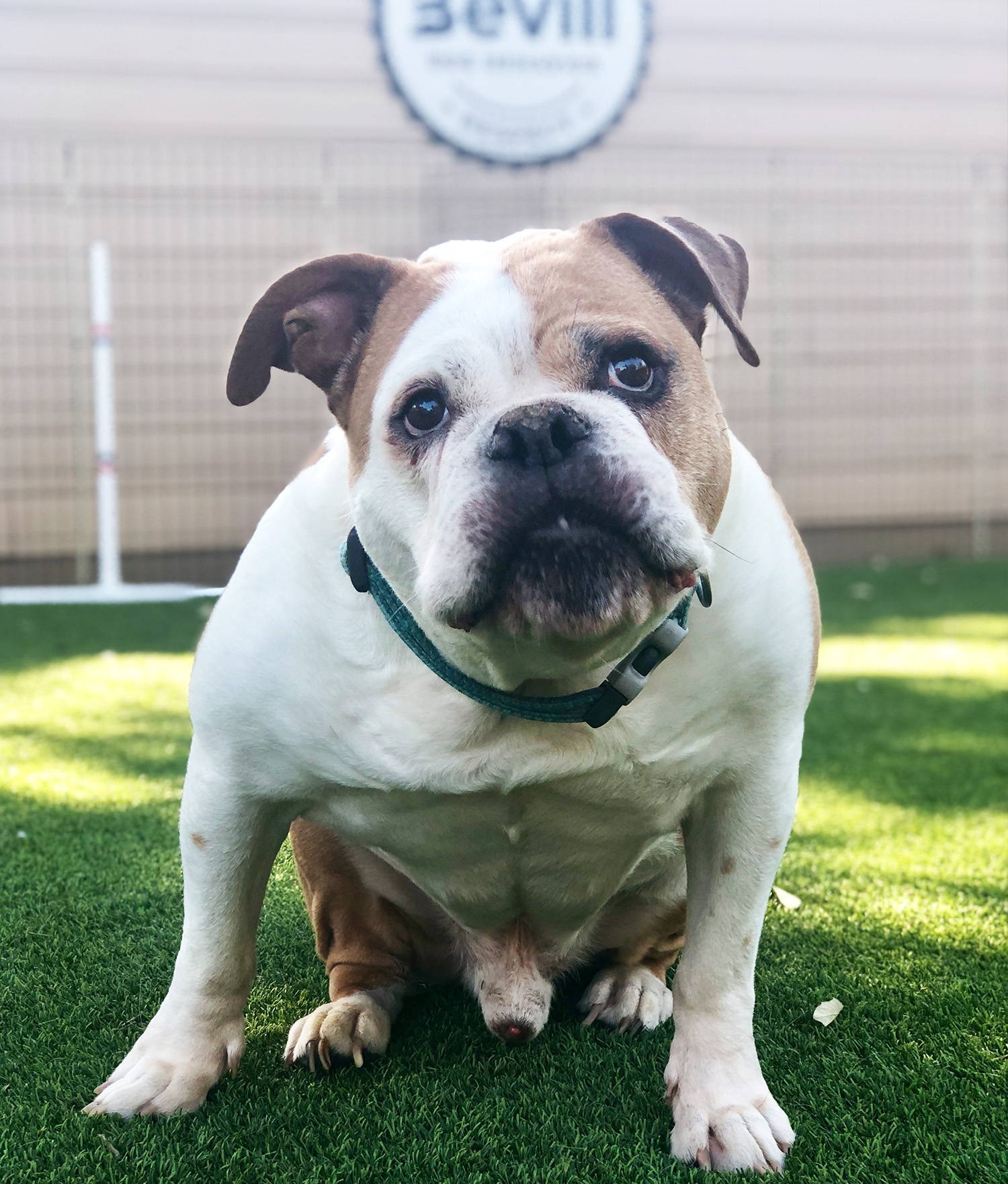 Tater-Tot the bulldog is a senior and came to us for aggression issues. He would attack moving objects like bikes, skateboards, etc. He also showed resource guarding tendencies and had gone after his human mom in an attempt to control space and other resources. He's now a balanced member of our pack and will live out his golden years with us!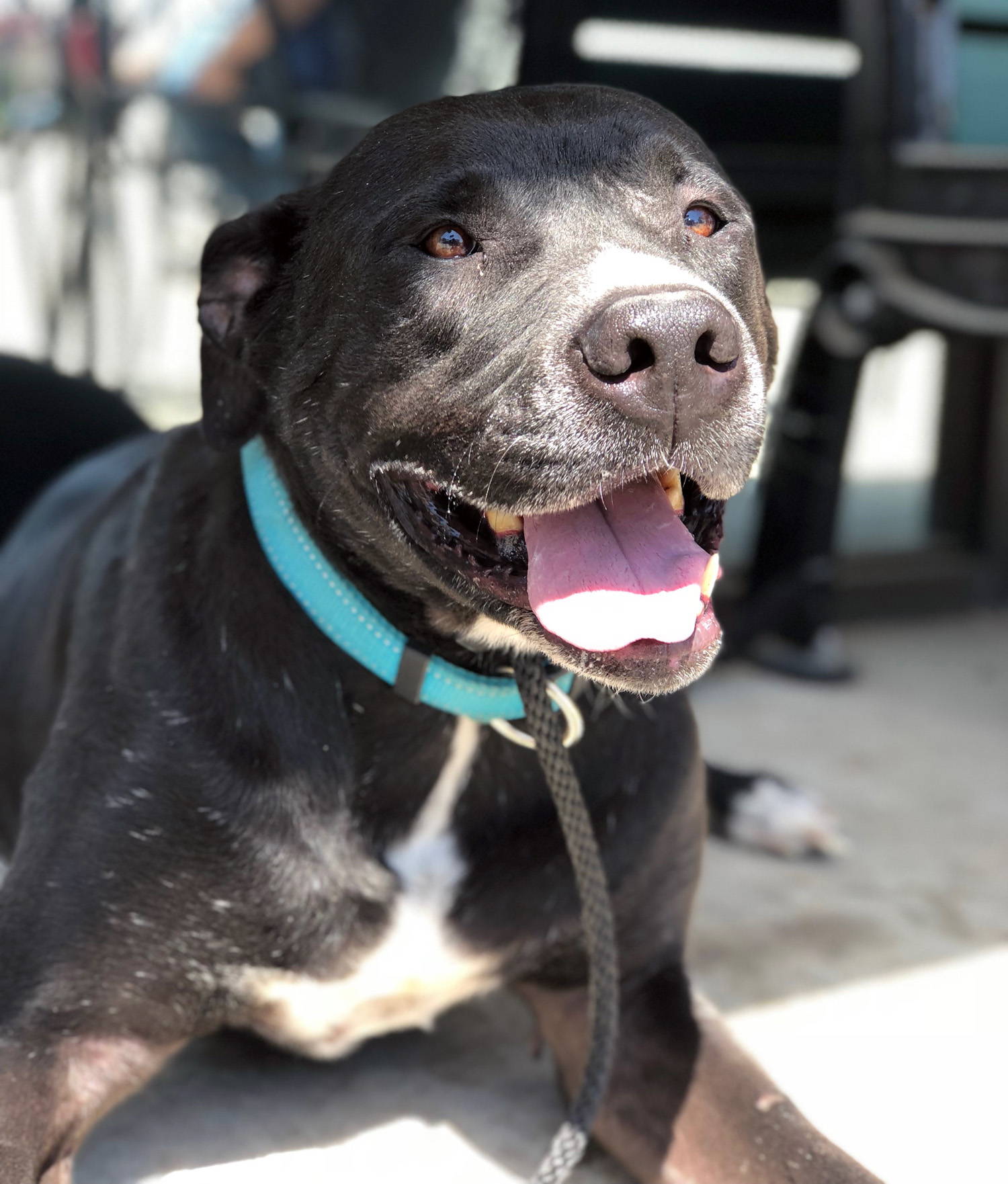 Malcolm is a 95 lbs pittie mix. He is by far one of the chillest dogs we've ever had. He loves to sun bathe and can handle short walks. He does not require a ton of exercise, games, or socialization. Malcolm is with us because he got into a couple of fights in his last home. He also had extreme crate anxiety and had a very hard time with loud noises – including thunder. He has destroyed crates and injured himself trying to escape from crates.
When he arrived, he did struggle with all of the aforementioned items, however, he is now great around humans and dogs (met/socialized with hundreds of dogs) and has shown no signs of aggression. He's fantastic in his crate 99.9% of the time, walks perfectly on leash, and is happy just chilling in the sun with us.

While Malcolm has come a very long way in his time with us, he is very fragile from a behavioral perspective, so we are allowing him to live out his golden years with us – right here at BDB! We're happy to welcome him to the BDB family as one of our sanctuary dogs!